"The world needs a break. Somewhere to go where a message of hope can be found and strength reclaimed. A refuge."
Andrew Wall
Welcome to Refuge 31 Films
We're a Canadian production company focused on documentary television with a positive message. This spring Refuge unleashed our first feature documentary, Burning Ember: The Steve Bell Journey, after a year of following legendary Canadian singer songwriter Steve Bell across North America.
Burning Ember has been a wonderful experience for Refuge and we've been honoured to tell this amazing story. We've also been honoured by the awards, screenings and world broadcasts. Check out our Projects page or Recent News to find out what else we've done and are currently working on.
Our Projects
Most recent film projects by Refuge 31
News & Updates
The production and screening journal of Refuge 31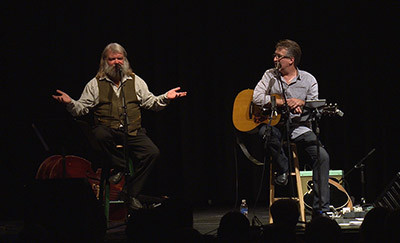 The first feature documentary that Refuge 31 produced, Burning Ember: The Steve Bell Journey, involved following singer-songwriter Steve Bell and shooting over a dozen concerts across Canada and the USA. Refuge 31 is now planning to release a 44 minute live concert film cut from Burning Ember footage shot at the Westend End Cultural Centre in Winnipeg, 2013. This concert included Dr. Malcolm Guite who read various poetic works and performed musically on stage. The brilliant Dr. Guite, who has collaborated with Steve Bell previously and whose works have been the inspiration for many of Steve's songs, is a published poet and musician as well as a Chaplain and instructor at Girton College, Cambridge University in England. Steve Bell and Malcolm Guite – Live at the West End is set for completion and broadcast 2016. Stay tuned for broadcast and Blu-ray availabilty! ...