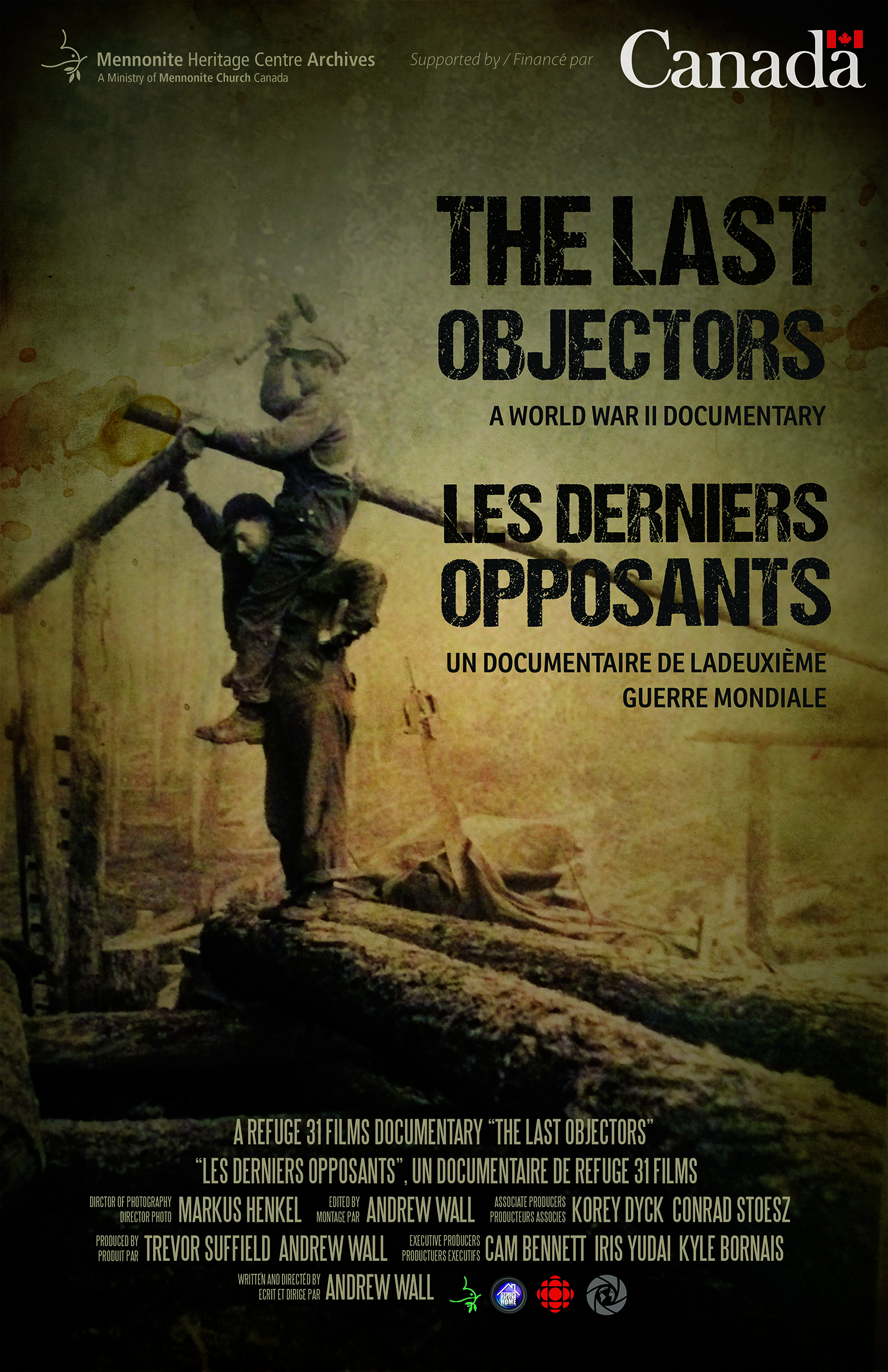 Refuge 31 is honoured to have taken home the Best Feature Documentary Award last night at the Winnipeg Real to Real Film Festival for its film The Last Objectors. Congrats to Writer/Director Andrew Wall, Director of Photography Markus Henkel, Producer Kyle Bornais, Producer/Production Manager Trevor Suffield, Assoc. Producers Korey Dyck and Conrad Stoesz, Exec. Producers Kyle Bornais, Iris Yudai (for the CBC) and Cam Bennett for (MTS Stories From Home).
"In its 5th year, the Winnipeg Real to Reel Film Festival seeks to connect filmmakers and audiences by promoting the best in the latest films and tv episodes that will encourage and inspire us to a greater understanding of the human journey. WR2R is pleased to have welcomed filmmakers from Manitoba as well as London Ontario, Toronto, Calgary and New York."

– Winnipeg Real to Reel Film Festival
Thank you to Paul Boge (festival director) and the entire festival team for such a wonderful event. This is the second award that Refuge 31 Films has been honoured with at the festival as the feature documentary Burning Ember: The Steve Bell Journey, took the Best Feature Documentary title in 2015 as well.
The film, which examines the Canadian conscientious objectors of the Second World War, has screened in numerous festivals already, including the World Documentary Awards in Indonesia where it won a Gold award, the World Humanitarian Awards in Jakarta where it won a Silver Humanitarian Award and the Views of the World Festival in Montreal where it was nominated for Best Documentary. The Last Objectors also recently was screened at the Canadian Museum for Human Rights.
"Once again it is an honour to be able to share the stories of these conscientious objectors, some of whom have passed since we filmed them in 2016. We were originally unsure about how larger audiences would react to a faith-based peace-position documentary, but instead are delighted that secular broadcasters and festivals are engaged and eager to screen it. They're also giving it awards."

The Last Objectors filmmaker – Andrew Wall
A very special thanks to all the conscientious objectors who shared their stories with us and their families who made this film happen. We would also like to thank the passion and driving force behind this film, archivist Conrad Stoesz at the Mennonite Heritage Centre in Winnipeg.  Conrad's dedication to collecting and sharing this once overlooked Canadian chapter of the Second World War has truly made this now a national and even global discussion.
We must also thank Iris Yudai at the CBC, Cam Bennett at MTS Stories From Home and The World War Commemoration Fund / Heritage Canada for their support in making this film happen.
More screenings and hopefully awards to come!